$100 per person SBC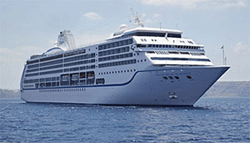 $100 per person SBC
Alaska will enchant you with its snow-capped peaks, shear rock palisades, waterfalls, rainbows and massive tidewater glaciers. Explore every glorious landscape of the Pacific Northwest with FREE Unlimited Shore Excursions available in every port of call and share your travels with friends and family with FREE Unlimited WiFi.
Wherever guests choose to sail, they will enjoy unparalleled hospitality and impeccable service by our
...
About Regent Seven Seas Cruises

Regent Seven Seas Cruises is the world's most inclusive luxury experience with a five-ship fleet that visits more than 450 destinations around the world. The final phase of Regent Seven Seas Cruises $125 million fleet-wide refurbishment was recently completed, elevating the elegance of its fleet to the standard set by the all-balcony, all-suite
Seven Seas Explorer®
, which entered service on July 20, 2016.
Seven Seas Explorer
is joined by all-balcony, all-suite sister-ships
Seven
...
This is an Exclusive Offer